The team here at CJB Interactive has been so busy over the last few weeks, working on numerous projects, including a brand new web design for Token Promotions. The highly functional, bespoke website was built using the content management system WordPress.
About Token Promotions
Token Promotions provide their clients with high quality promotional products at competitive prices. What better way to spread the word about your business, than having bespoke marketing products made? Their best-selling marketing materials include trolley tokens, key rings, pens and coasters. What's great about Token Promotion's promotional product range is that all of the items are extremely practical. Whenever one of your customers picks up your personalised pen or inserts your token into a supermarket trolley, they will instantly be reminded of your business. Token Promotions can create custom made merchandise for any marketing and fundraising campaigns.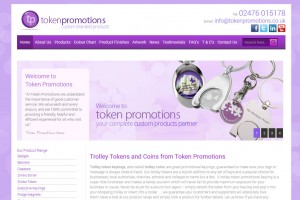 The design
Our aim was to create a web design that not only generated off-site leads, but provided users with an enjoyable browsing experience. We concentrated on building straight forward navigation and clean page layouts so that users could access the information they required with ease and speed. As well as focusing on functionality, we also made sure that we branded the site, keeping it consistent with Token Promotion's recognisable colour scheme.
From looking at the new site design, you will see that social media plugins have been added for easy sharing. Feel free to give them a follow!
Why WordPress?
We chose WordPress as the content management system for the Token Promotions website as it is extremely user-friendly, whilst still being highly functional and customisable. WordPress makes it easy for users to add, edit and remove content as and when they wish to, without having to rely on their web designers for help.
Token Promotions SEO
Our team of SEO specialists has also been working closely with Token Promotions to improve their websites SEO. Using on-site and off-site white hat SEO techniques, the team is aiming to enhance the company's visibility online and help them achieve higher rankings on relevant search engine results pages.